BitBet has a giant bonus offer for players
Online casino BitBet has two great things for players - Bitcoin betting and a great bonus offer. Right now, new and existing players can get a 200% bonus at bitbet.com.

200% Bonus at BitBet

Simply deposit at least $25 USD in crypto at bitbet.com to trigger a giant 200% Bonus. Players can deposit by using a variety of crytpocurrencies. Of course, Bitcoin is accepted, but so are BTC Cash, Cardano, Ethereum, Ripple, Stellar and more.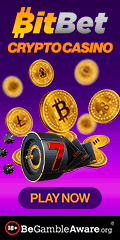 Once the crypto deposit is accepted, a 200% bonus will be available. All bonuses must be claimed upon deposit and before the deposit money is used. 

New and existing players can take advantage of this great bonus offer by starting with as little as a $25 deposit and the maximum bonus is $1000. Deposit $50 and get an extra $100 to play with. Send in $500 or more and get a $1000 added to the bonus balance. Players must complete a 40X rollover.

Crypto wagering at BitBet

Online casino gamblers who are looking to use crypto to play with can find a crypto-only casino at BitBet. Players can use any of 10 cryptocurrencies to play with - BTC, BCH, ETH, ADA, ATOM, DSH, LTC, DOT, XRP and XLM. Send any of the currencies and the crypto will be converted to microbitcoin (MBT) which is 1/10 of a Bitcoin at the current market value. Convert the MBT back to any of the currencies below for a payout after you win.

In addition to great bonuses and comps at BitBet, play the hottest slots, table games, and innovative arcade offerings that you won't find anywhere else! And BitBet makes it easy to to open an account. Keep your personal information private and get started with just an email and a password! 

Head to BitBet.com to play with crypto now.